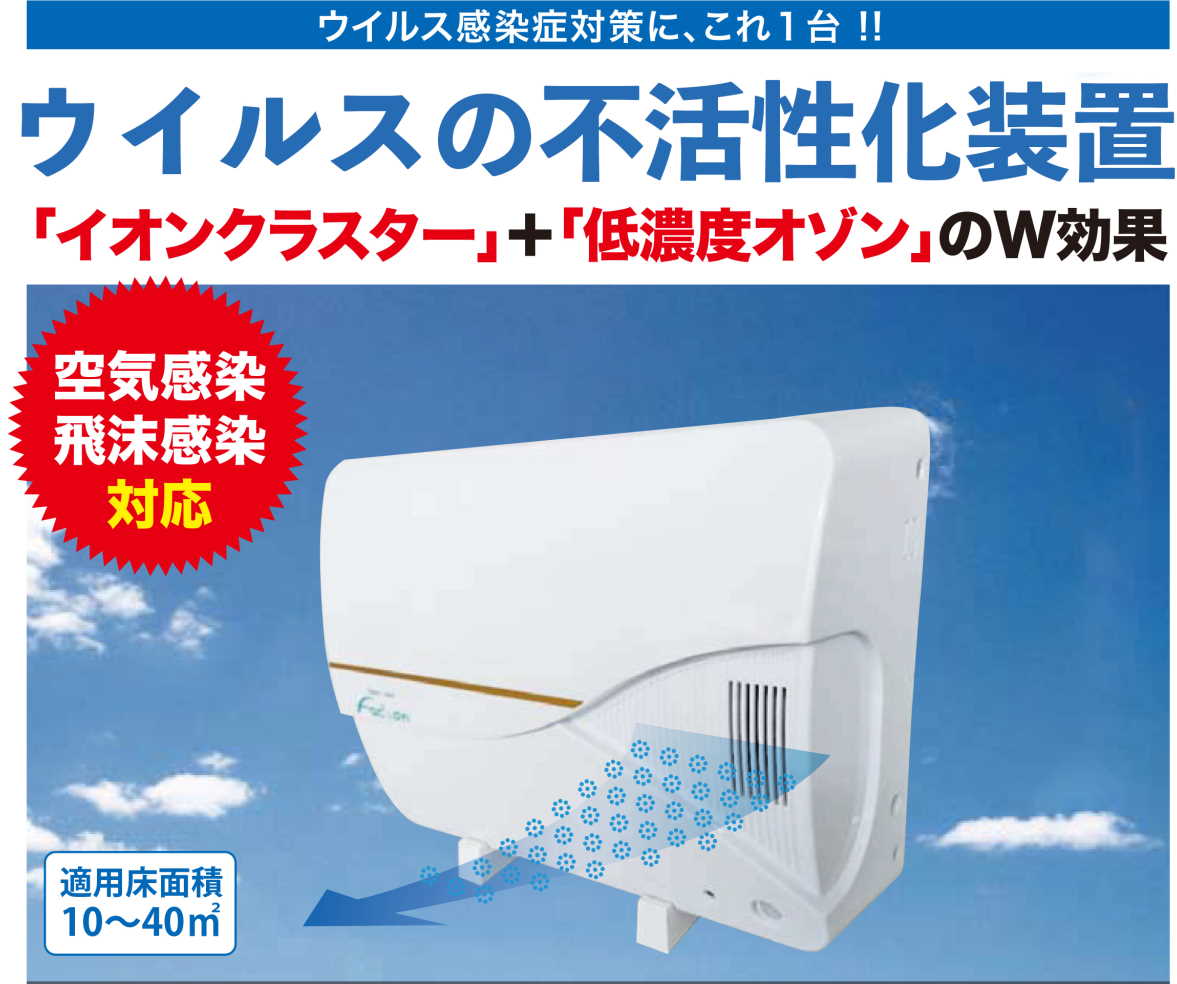 Cumulative sales volume in 10 years from the start of sales
approximately
20,000
stand
(Reiwa March, 2010)
of which medical field(Including facilities for the elderly)
approximately
6,000
stand
The applicable area will change depending on the environment and conditions of the room.
2 Tokyo Electric Power Company's electricity charges and second-stage charges (2018As of April 2010: 1kWh: 27 yen, including tax)It is calculated from. The actual unit price will vary depending on the power company and the monthly power consumption.
* This specification is for October 2018, and there are cases where it is forced to change.
《Virus Inactivator》
In addition to list price sales, 5-year lease(60time)But you can buy.
1.
Pulsed plasma discharge releases large volumes, long life, and high-energy ion clusters!
2.
Clean size wall hanging / installation both type, no problem with the installation location!
3.
Safe and secure! Health of indoor air by ionization of air!
4.
No filter, significant reduction in maintenance costs!
5.
Hospitals, nursing homes, schools, shops... Measures against infectious diseases in the place where people gather!
★ scheduled to be released soon, we are accepting purchase reservations
1.The living environment is polluted.
The problem of air quality has shifted from "air pollution" in the open air to "pollution" in the room. The daily air intake of adults is about 20 kg.(2kg of food, 2kg of water)And, it is enormous. If the air had become a "dangerous thing"... The effect on the human body becomes more serious.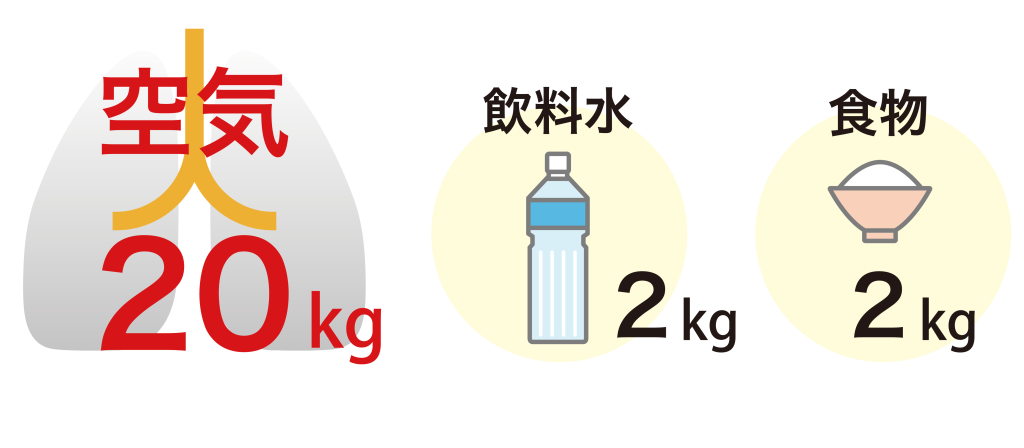 2.Deterioration and deterioration of the indoor air environment are serious. The reason is...
The life pattern has changed and the indoor activity time is increasing.
In order to increase the energy efficiency of the building, sealing has progressed.
Urbanization increases the number of closed buildings, and the development and use of new building materials(house)It induces various diseases such as syndrome.



3.There are four main pollutants that spread in the room:
1 Stench molecule
2 Bacteria, bacteria, fungi, microorganisms
3 Virus
4 Volatile organic compounds(It's called VOC.)

In an deteriorating air quality environment, we consume 20kg of air a day.

4 .Fear of pollution
1 Odors
Discomfort, irritation, headache, insomnia, lack of concentration, etc.

2 Bacteria/Viruses
Influenza, tuberculosis, MRSA, etc.

3 Volatile organic compounds(Hazardous chemicals)
Sick House Syndrome, Chemical Hypersensitivity, Atopic Diseases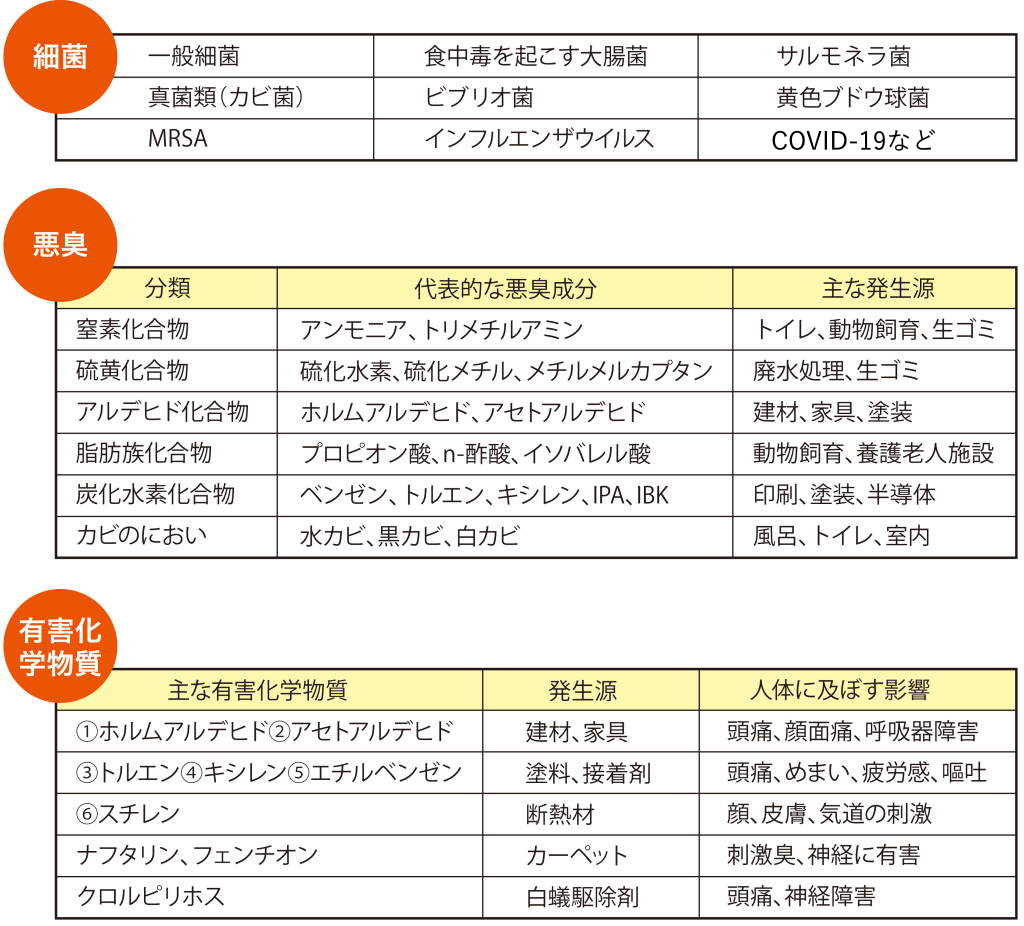 The air around you Is it safe?
Air Safety Declaration Fación
Contact us
Facion Customer Center

0120-954-105
111-0052 Yanagihashi 2-3-1 Yanagihashi AT Building 4F, Kyoto Taito Ward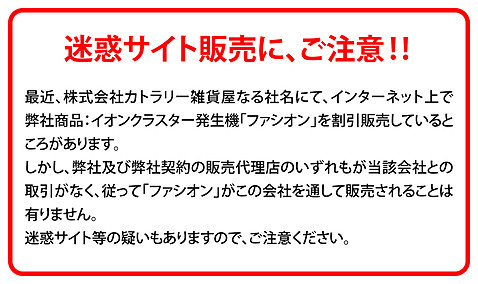 This page has been translated automatically. Please note that it may differ from the original contents.